Purpose
The Jinping
power station
is on the border of the Yanyuan and
Muli
districts in the autonomous Liangshan Yi area of the Sichuan province. The Yalong River, which the dam will control, is the largest tributary of the
Jinsha
. For the project, approximately 7,500 inhabitants will be relocated.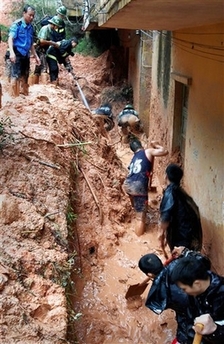 Location
The main structure will be a 300 meter high elbow rope wall, to which a 3600-Megawatt
Power Station
will be attached. It will become the highest or one of the two highest dams on earth, since the
Rogun dam
, at 335 meters in height, is not yet built.
Thyssenkrupp
supplied a cableway for the building site.
Design
The power station will have six turbines, each capable of producing 600 megawatts, for a total of 3600 megawatts. The annual production of Jinping I is estimated to be between 16 and 18TWh (billion KW/H).
Power Generation
Construction work began on
November 12
2005
. Expectations are that power first will be generated in
2012
with the remainder of the work completed by
2014
.
Schedule
It is one of many large-scale Chinese water power projects, which at present are in the construction or planning phases. The best-known of these is the
Three Gorges Dam
. Twelve of these power stations together are to supply 22,850 MW into the nation's power grid. (The 18,200 megawatts of the Three Gorges Dam are not contained in this figure.) The Ertan dam, which will provide 3300 megawatts, is already finished.
Future Projects
Hydro-electricity
Three Gorges Dam
China