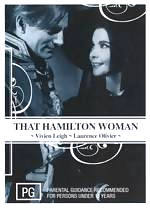 That Hamilton Woman
, its original British title was simply
Lady Hamilton
, is a
1941
historical film drama, produced & directed by
Alexander Korda
, for Alexander Korda Films.
It tells the story of
Emma Hamilton
, who was mistress to Admiral
Horatio Nelson
with these roles played by
Vivien Leigh
and
Laurence Olivier
.
Heather Angel
also appear in the film in a minor part of a street girl. The story start at the end of Lady Hamilton's Life, in the slums of Calais, and shows her life by means of a flash back.
Stars
Vivien Leigh
and
Laurence Olivier
were newlyweds at the time of filming and were considered a "dream couple".
Trivia
In Horatio Nelson's (Laurence Olivier) opening scene, he informs Lord Hamilton that he has received orders from Lord Admiral Hood, a role that Olivier would play 43 years later, in
The Bounty
It was stated to be the favorite film of
Sir Winston Churchill
Made in wartime, Napoleon was equated to Hitler and Nelson to 'Britain fighting on alone' in WWII.