Sir Roger Gilbert Bannister
CBE
(born
March 23
,
1929
) is a
British
former athlete best known as the first man to run the
mile
in
less than 4 minutes
. Bannister became a distinguished
neurologist
and Master of
Pembroke College, Oxford
retiring in 2001. He was born in
Harrow
,
London
.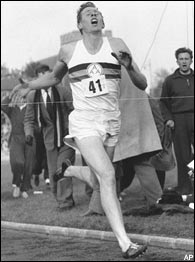 Education
Bannister was inspired by miler
Sydney Wooderson
's remarkable comeback in 1945. Eight years after setting the mile record and seeing it surpassed during the war years by the great Swedish runners
Arne Andersson
and
Gunder Hagg
, Wooderson regained his old form and challenged Andersson over the distance in several races. Wooderson lost to Andersson, but set a British record of 4:04.2 in
Goteborg
on 9 September.
Like Wooderson, Bannister would ultimately set a mile record, see it broken, then set a new personal best inferior to the new record.
Bannister started his running career at
Oxford
in the autumn of 1946 when 17. He had never worn running spikes previously or run on a track. His training was light, even compared to the standards of the day, but he showed promise in running a mile in 1947 in 4:24.6 on only three weekly half-hour training sessions.
He was selected as an Olympic "possible" in 1948, but declined as he felt he was not ready to compete at that level. However, he was further inspired to become a great miler by watching the
1948 Olympics
. He set his training goals on the
1952 games
in
Helsinki
.
In 1949, he improved in the 880 yards to 1:52.7 and won several mile races in 4:11. Then, after a period of six weeks with no training, he came in third at
White City
in 4:14.2.
The year 1950 saw more improvements, as he finished a relatively slow 4:13 mile on 1 July with an impressive 57.5 last quarter. Then, he ran the
AAA
880 in 1:52.1, losing to
Arthur Wint
, then ran 1:50.7 for the 800 m at the European Championships on 26 August, placing third. Chastened by this lack of success, Bannister started to train harder and more seriously.
His increased attention to training paid quick dividends, as he won a mile race in 4:09.9 on 30 December, then in 1951 at the
Penn Relays
, Bannister broke away from the pack with a 56.7 final lap, finishing in 4:08.3. Then, in his biggest test to date, he won a mile race on 14 July in 4:07.8 at the
AAA
Championships at White City before 47,000 people. The time set a meet record and he defeated defending champion
Bill Nankeville
in the process.
Bannister suffered defeat, however, when
Yugoslav
Andrija Otenhajmer
, aware of Bannister's final-lap kick, took a 1500 m race in
Belgrade
25 August out at near-record pace, forcing Bannister to close the gap by the bell lap. Otnehajmer won in 3:47.0, Bannister set a personal best finishing second in 3:48.4. Bannister was no longer seen as invincible.
Early running career of Bannister
Bannister avoided racing after the 1951 season until late in the spring of 1952, saving his energy for Helsinki and the Olympics. He ran an 880 on 28 May in 1:53.00, then a 4:10.6 mile time-trial on 7 June, proclaiming himself satisfied with the results. At the AAA championships, he skipped the mile and won the 880 in 1:51.5. Then, 10 days before the Olympic final, he ran a 3/4 mile time trial in 2:52.9, which gave him confidence that he was ready for the Olympics as he considered the time to be the equivalent of a four-minute mile.
His confidence soon dissipated as it was announced there would be semi-finals for the 1500 m at the Olympics, and he knew that this favoured runners who had much deeper training regimes than he did. When he ran his semi-final, Bannister finished fifth and thereby qualified for the final, but felt "blown and unhappy."
The 1500 m final on 26 July would prove to be one of the more dramatic in Olympic history. The race was not decided until the final meters,
Josy Barthel
of
Luxembourg
prevailing in an Olympic-record 3:45.28 (3:45.1 by official hand-timing) with the next seven runners all under the old record. Bannister finished fourth, out of the medals, but set a British record of 3:46.30 (3:46.0) in the process.
Bannister sets a new goal
This historic event took place on
May 6
,
1954
during a meet between
British AAA
and
Oxford University
at
Iffley Road Track
in
Oxford
. It was watched by about 3,000 spectators. With winds up to 25 miles per hour (40 km/h) prior to the event, Bannister had said twice that he favoured not running, to conserve his energy and efforts to break the 4-minute barrier; he would try again at another meet. However, the winds dropped just before the race was scheduled to begin, and Bannister did run. His time was 3 min 59.4 s. Two other runners, Brasher and Chataway, provided pacing whilst completing the race. Both went on to establish their own track careers. The race was broadcast live by
BBC Radio
and commented on by
Harold Abrahams
, of "
Chariots of Fire
" fame.
The stadium announcer for the race was
Norris McWhirter
, who went on to publish and edit the
Guinness Book of Records
. He famously "teased" the crowd by drawing out the announcement of the time Bannister ran as long as possible:
[1]
The roar of the crowd drowned out the rest of the announcement.
The claim that a 4-minute mile was once thought to be impossible by
informed
observers was and is a widely propagated myth cooked up by sportswriters and debunked by Bannister himself in his memoir,
The Four Minute Mile,
1955. The reason the myth took hold was that 4 minutes was a nice round number which was slightly better (1.4 seconds) than the world record for nine years—longer than it probably otherwise would have been because of the effect of World War II in interrupting athletic progress in the combatant countries. Note that the Swedish runners Gunder Hagg and Arne Andersson, in a series of head-to-head races in the period 1942–45, had already lowered the world mile record by 5 seconds to the pre-Bannister record. (See
World record progression for the mile run
.) What is still impressive to knowledgeable track fans is that Bannister ran a 4-minute mile on
very low-mileage training
by modern standards.
Just 46 days later on
June 21
in
Turku
, Finland, Bannister's record was broken by his rival
John Landy
of Australia, with a time of 3 min 57.9 s, which the
IAAF
ratified as 3 min 58.0 s due to the rounding rules then in effect.
The 4-minute mile
On
August 7
, at the
1954 British Empire and Commonwealth Games
in
Vancouver
, B.C., Bannister competed against Landy for the first time in a race billed as "The Miracle Mile". They were the only two men in the world to have broken the 4-minute barrier, with Landy still holding the world record. Landy led for most of the race, building a lead of 10 yards in the third lap (of four), but was overtaken on the last bend, and Bannister won in 3 min 58.8 s, with Landy 0.8 s behind in 3 min 59.6 s. Bannister and Landy have both pointed out that the crucial moment of the race was that at the moment when Bannister decided to try to pass Landy, Landy looked over his left shoulder to gauge Bannister's position and Bannister burst past him on the right, never relinquishing the lead. A larger-than-life bronze sculpture of the two men at this moment was created by Vancouver sculptor Jack Harman in 1967 and stood for many years at the entrance to Empire Stadium; after the stadium was demolished the sculpture was moved a short distance away to the Hastings and Renfrew entrance of the Pacific National Exhibition (PNE) fairgrounds. Regarding this sculpture, Landy quipped that "While Lot's wife was turned into a pillar of salt for looking back, I am probably the only one ever turned into bronze for looking back."
Bannister went on that season to win the "metric mile", the 1,500 m, at the European Championships in
Berne
on 29 August, with a championship record in a time of 3 min 43.8 s. He then retired from athletics to concentrate on his work as a junior doctor and to pursue a career in
neurology
.
He later became the first Chairman of the Sports Council (now called
Sport England
) and was
knighted
for these services in 1975. Under his aegis, central and local government funding of sports centres and other sports facilities was rapidly increased, and he also initiated the first testing for use of
anabolic steroids
in sport.
Bannister vs Landy "The Miracle Mile"
As a medical student at
St Mary's Hospital
,
Paddington
, Roger Bannister chose to use his lunch hour for a 9 minute jog to Paddington track, where he ran 10 X 400 m in about 60 s with two minutes rest, then he ran back to work. The whole procedure took 46 minutes, leaving him 14 minutes to eat his lunch.
John Landy ran the "Miracle Mile" with 4 stitches in his foot from stepping on a burst flash bulb before the race. It is in keeping with the spirit of the man that he never used this as an excuse for his defeat in this memorable race.
Legacy
"I knew I was very close. I did collapse at the end. If you don't keep on running, keep your blood circulating…the muscles stop pumping the blood back, and you get dizzy. I did lose my sight for a bit because I was crowded in. Everybody rushed on to the track."
"I found longer races boring. I found the mile just perfect."
"The man who can drive himself further once the effort gets painful is the man who will win."
Roger Bannister on breaking the 4-minute mile (Cameron, 1993: 185): "No longer conscious of my movement, I discovered a new unity with nature. I had found a new source of power and beauty, a source I never dreamt existed."