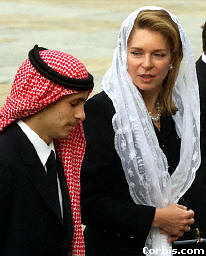 Prince Hamzah bin Al Hussein
of Jordan (
Arabic
: حمزة بن الحسين) (born
March 29
,
1980
) is the eldest son of the late King
Hussein of Jordan
from his American-born fourth wife, Queen
Noor al-Hussein
. He was named
Crown Prince
of
Jordan
in 1999, a position he held until it was rescinded in 2004 by his half-brother, King
Abdullah II of Jordan
. Queen Noor states in her autobiography that she and King Hussein named their son after
Hamza ibn 'Abd al-Muttalib
.
HM The King
HM The Queen



HRH Prince Hussein




HRH Princess Iman




HRH Princess Salma




HRH Prince Hashem




HRH Prince Faisal




HRH Princess Alia




HRH Princess Aliya







HRH Princess Ayah




HRH Prince Omar




HRH Princess Sara




HRH Princess Aisha




HRH Princess Aisha




HRH Princess Zein




HRH Princess Haya




HRH Prince Ali




HRH Princess Rym







HRH Princess Jalilah




HRH Prince Abdullah




HM Queen Noor


HRH Prince Hamzah





HRH Princess Hayah




HRH Prince Hashim




HRH Princess Fahdah







HRH Princess Halaah




HRH Princess Iman




HRH Princess Raiyah




HRH Princess Muna




HRH Prince Mohammed




HRH Prince Hassan




HRH Princess Sarvath







HRH Princess Rahma




HRH Princess Sumaya




HRH Princess Badiya




HRH Prince Rashid




HRH Princess Basma




HRH Prince Asem




HRH Princess Sana







HRH Princess Yasmine




HRH Princess Sarah




HRH Princess Noor




HRH Princess Salha




HRH Princess Nejla




HRH Prince Nayef




Miss Abir Muhaisen

Marriage and family
With a full schedule of study, training, official duties and military service, Prince Hamzah has had little leisure time during the past few years. When he does have some personal free time, His Royal Highness likes spending time with family and friends. He enjoys piloting helicopters, shooting, parachuting, as well as sky diving, motorcycling and water sports. His Royal Highness also enjoys reading (mainly history books and biographies). Since his early teens, he has been an enthusiastic user of the internet, and participates in local and international