James Connolly
(
Irish
:
Séamas Ó Conghaile
;
June 5
,
1868
–
May 12
,
1916
) was an Irish
socialist
leader. He was born in the
Cowgate
area of
Edinburgh
,
Scotland
, to Irish
immigrant
parents. He left school for working life at the age of 11, but despite this he would become one of the leading
Marxist
theorists of his day. Though proud of his Irish background he also took a role in
Scottish politics
. In addition, he studied the neutral international language,
Esperanto
. He was shot by firing squad following his involvement in the
Easter Rising
of
1916
.
Early life
By
1892
he was involved in the
Scottish Socialist Federation
, acting as its secretary from
1895
, but by
1896
he had gone to Dublin to take up the full time job of secretary of the
Dublin Socialist Society
which at his instigation quickly evolved into the
Irish Socialist Republican Party
(ISRP). The ISRP is regarded by many Irish historians as a party of pivotal importance in the early history of Irish socialism and republicanism. While active as a socialist in
Great Britain
Connolly was among the founders of the
Socialist Labour Party
which split from the
Social Democratic Federation
in
1903
. While in America he was member of the
Socialist Labor Party of America
(1906), the
Socialist Party of America
(1909), the
Industrial Workers of the World
and founded the Irish Socialist Federation in New York, 1907. On his return to Ireland he was right hand man to
James Larkin
in the
Irish Transport and General Workers Union
. In
1913
, in response to the
Lockout
, he, along with an ex-
British
officer
Jack White
, founded the
Irish Citizen Army
(ICA), an armed and well-trained body of labour men whose aim was to defend workers and strikers, particularly from the frequent brutality of the
Dublin Metropolitan Police
. Though they only numbered about 250 at most, their goal soon became the establishment of an independent and socialist Irish nation. He founded the
Irish Labour Party
in 1912 and was a member of the National Executive of the Irish Labour Party when he was executed in 1916.
Socialist involvement
Connolly stood aloof from the leadership of the
Irish Volunteers
. He considered them too bourgeois and unconcerned with Ireland's economic independence. In
1916
thinking they were merely posturing, and unwilling to take decisive action against Britain, he attempted to goad them into action by threatening to send his small body against the
British Empire
alone, if necessary. This alarmed the members of the
Irish Republican Brotherhood
, who had already infiltrated the Volunteers and had plans for an insurrection that very year. In order to talk Connolly out of any such rash action, the IRB leaders, including
Tom Clarke
and
Patrick Pearse
, met with Connolly to see if an agreement could be reached. It has been said that he was kidnapped by them, but this has been denied of late, and must at some point come down to a matter of semantics. As it was, he disappeared for three days without telling anyone where he had been. During the meeting the IRB and the ICA agreed to act together at
Easter
of that year.
When the
Easter Rising
occurred on
April 24
,
1916
, Connolly was Commandant of the Dublin Brigade, and as the
Dublin Brigade
had the most substantial role in the rising, he was
de facto
Commander in Chief
. Following the surrender, he said to other prisoners: 'Don't worry. Those of us that signed the proclamation will be shot. But the rest of you will be set free.' Connolly was not actually held at the jail, but at the Dublin Castle - the British centre of Administration in Ireland at the time. He was taken to the
Kilmainham Hospital
, across the road from the jail and then taken to the jail to be executed by the British. Visited by his wife, and asking about public opinion, he commented 'They all forget that I am an Irishman'. He confessed his sins, said to be his first religious act since marriage.
He was so badly injured from the fighting (a doctor had already said he had no more than a day or two to live, but the execution order was still given) that he was unable to stand before the firing squad. His absolution and last rites were administered by the Capuchin, Father Aloysius. Asked to pray for the soldiers about to shoot him, he said: 'I will say a prayer for all men who do their duty according to their lights'.
Instead of being marched to the same spot where the others had been executed, at the far end of the execution yard, he was tied to a chair and then shot. Although nobody knew it at the time, this was to be last of the executions for the
Easter Rising
. The executions were not well received, even throughout Britain, and were drawing unwanted attention from the United States, which the British Government were trying to lure into the War in Europe. There was uproar on both sides of the Atlantic when it became known that a dying man had been tied to a chair and killed.
Asquith
, the British PM then ordered that no more executions were to take place and all other death sentences were commuted.
He was survived by his wife and several children, one of whom -
Nora Connolly-O'Brien
- became an influential writer and campaigner within the Republican movement as an adult.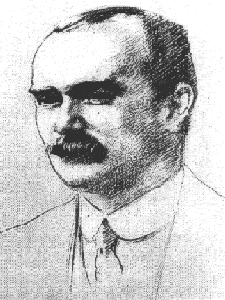 Irish independence
His legacy in
Ireland
is mainly due to his contribution to the
republican
cause and his
Marxism
has been largely overlooked by mainstream histories (although his legacy as a socialist has been claimed by the
Communist Party of Ireland
,
Connolly Youth Movement
éirígí
, the
IRSP
, the
Labour Party
,
Sinn Féin
, the
Socialist Party
, the
SWP
, the
Workers' Party
and a variety of other left-wing and left-republican groups). However, despite claims to the contrary, Connolly's writings show him to be first and foremost a Marxist thinker. In several of his works he rails the
bourgeois
nationalism of those who claimed to be Irish
patriots
.
Connolly was among the few left-wingers of the
Second International
who opposed, outright,
World War I
. This put him at odds with most of the Labour leaders of Europe - but meant he was a co-thinker of those that would later come to call themselves
communists
, such as
Lenin
,
Trotsky
and
Rosa Luxemburg
. He was influenced and heavily involved with the radical
Industrial Workers of the World
labour union.
Apparently Lenin was a great admirer of Connolly, although the two never met. Lenin berated other communists, who had criticised the rebellion in Ireland as bourgeois. He maintained that no revolution was "pure", and communists would have to unite with other disaffected groups in order to overthrow existing social orders. He was to prove his point the next year, during the
Russian Revolution
.
In Scotland, his thinking was hugely influential to socialists such as
John Maclean
, who would similarly combine his leftist thinking with nationalist ideas when he formed his
Scottish Workers Republican Party
.
There is a statue of James Connolly in Dublin, outside
Liberty Hall
, the offices of the
SIPTU
Trade Union
.
Dublin Connolly railway station
, one of the two main railway stations in Dublin, is named in his honour.
Despite Connolly's role in the
Easter Rising
and subsequent execution by the British authorities, in a 2002 poll conducted by the
BBC
of the
100 Greatest Britons
, Connolly was voted the 64th greatest
Briton
of all time, ahead of other notable Britons such as
David Lloyd George
and
Sir Walter Raleigh
.
Trivia
Levenson S.
James Connolly A Biography
. Martin Brian and O'Keeffe Ltd., London, 1973.
ISBN 0-85616-130-6
.
Connolly, James. 1987.
Collected Works
(Two volumes). Dublin: New Books.
Anderson, W.K. 1994.
James Connolly and the Irish Left
. Dublin: Irish Academic Press.
ISBN 0-7165-2522-4
.
Fox, R.M. 1943.
The History of the Irish Citizen Army
. Dublin: James Duffy & Co.
Fox, R.M. 1946.
James Connolly: the forerunner
. Tralee: The Kerryman.
Greaves, C. Desmond. 1972.
The Life and Times of James Connolly
. London: Lawrence & Wishart.
ISBN 0-85315-234-9
.
Lynch, David. 2006.
Radical Politics in Modern Ireland: A History of the Irish Socialist Republican Party (ISRP) 1896-1904
. Dublin: Irish Academic Press.
ISBN 0-7165-3356-1
.
Kostick, Conor & Collins, Lorcan. 2000 "The Easter Rising" Dublin: O'Brien Press ISBN .0-86278-638-X
Nevin, Donal. 2005.
James Connolly: A Full Life
. Dublin: Gill & MacMillan.
ISBN 0-7171-3911-5
.
Ó Cathasaigh, Aindrias. 1996.
An Modh Conghaileach: Cuid sóisialachais Shéamais Uí Chonghaile
. Dublin: Coiscéim.
Townshend, Charles (2005).
Easter 1916: the Irish rebellion
. London:
Allen Lane
, xxi, 442p.
ISBN 0-7139-9690-0
.