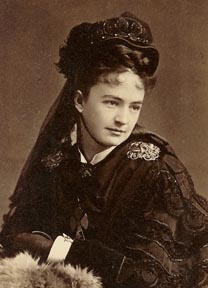 Elizabeth Bacon Custer
(
April 8
,
1842
-
April 6
,
1933
) was the wife of General
George Armstrong Custer
. After his death, she became an outspoken advocate for her husband's legacy. Custer's portrayal as a gallant fallen hero and the glory of
Custer's Last Stand
that were canons of American history for more than a century after his death was largely the result of her endless campaigning on his behalf.
Elizabeth "Libbie" Bacon was born in
Monroe, Michigan
in 1842, the daughter of a wealthy and influential judge. As the only one of the judge's children that would live to adulthood, her father doted on her. Elizabeth was both beautiful and intelligent, and her father hoped she would make a good marriage with a man from her own elevated social class.
She met her future husband in 1862 in the midst of the
American Civil War
. She fell deeply in love with him but her father refused to allow them to get married. Custer was from a poor undistinguished family and the Judge hoped Libby would have better than the life of an army wife. After Custer was promoted to
Brevet
Brigadier General
, Judge Bacon finally relented and they were married on
February 9
,
1864
.
Libbie and George had a loving but tumultuous relationship. Both were stubborn, opinionated, and ambitious. Their private correspondences were filled with sexually charged
double entendres
. Despite hardships, they were utterly devoted to each other. She followed him to every assignment, even during the latter days of the Civil War. The depth of their relationship has been the subject of considerable interest in books and film.
After the war, he reverted from his rank of general and was assigned to a series of dreary and unsatisfying assignments in
Texas
,
Kansas
, and the
Dakota Territory
. Life on the frontier outposts was difficult and Custer's career was plagued by problems including a
court martial
(brought about by his leaving the field to be with Libbie).
The 1876 campaign against the Sioux seemed like a chance for glory to Custer. From
Fort Abraham Lincoln
in what is now
North Dakota
, He led the Seventh Cavalry in pursuit of
Sitting Bull
,
Crazy Horse
and the Sioux and Northern Cheyenne who refused to be confined to the reservation system.
After her husband's column was wiped out at the
Battle of the Little Big Horn
in June 1876, many in the press, Army, and government criticized Custer for blundering into a massacre. President
Ulysses S. Grant
publicly blamed Custer for the disaster. Fearing that her husband was to be made a
scapegoat
by history, Libbie launched a one woman campaign to rehabilitate her husband's image. She began writing articles and making speaking engagements praising the glory of her martyred husband. Her three books,
Boots and Saddles
, (1885),
Following the Guidon
(1890); and
Tenting on the Plains
, (1893) were brilliant pieces of propaganda aimed at glorifying her dead husband's memory. Though generally considered to be largely factually accurate, they were clearly slanted in Custer's favor.
Her efforts were largely successful. The image of a steely Custer leading his men against overwhelming odds only to be wiped out while defending their position to the last man became as much a part of American lore as the
Alamo
. It would not be until the late 20th century, more than a half century after her death, that many historians began to take a second look at Custer's actions leading up to the battle and found much to criticize.
Libbie remained utterly devoted to her husband and never remarried. She died in
New York City
a few days before her 91st birthday. She was buried next to her husband at
West Point
.
Libbie was portrayed by actress
Olivia de Havilland
in the
1941
film
They Died with their Boots On
, by
Mary Ure
in the
1967
film
Custer of the West
, by
Blythe Danner
in the 1977 television movie
The Court Martial of George Armstrong Custer
, and by
Rosanna Arquette
in the
1991
television mini-series
Son of the Morning Star
.