Lord Baltimore
George Calvert, 1st Baron Baltimore
(
c.
1580
–
15 April
1632
) was an
English
politician
and
coloniser
. He achieved domestic political success as a
Member of Parliament
and later
Secretary of State
under
King James I
, though he lost much of his political power after his support for a failed marriage alliance between
Prince Charles
and the Spanish royal family. Rather than continue in politics, he resigned all of his political offices in 1625 except for his position on the
Privy Council
and declared his
Catholicism
publicly. He was granted the title of
1st Baron Baltimore
in the Irish peerage upon his resignation.
Calvert took an interest in the
colonization
of the New World, at first for commercial reasons and later to create a refuge for English Catholics. He became the proprietor of
Avalon
, the first sustained English settlement on the island of
Newfoundland
. Discouraged by the climate and the sufferings of the settlers there, Calvert looked for a more suitable spot further south and sought a new royal charter to settle the region that was to become the state of
Maryland
. Calvert died five weeks before the new charter was sealed, leaving the settlement of the Maryland colony to his son
Cæcilius
. Historians have long recognized George Calvert as the founder of Maryland, in spirit if not in fact.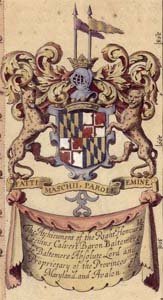 Early life
Calvert named Cæcilius for
Sir Robert Cecil
,
Political success
In Parliament, a political crisis developed over the king's policy of seeking a Spanish wife for
Charles, Prince of Wales
, as part of a proposed alliance with the Hapsburgs.
Resignation and conversion
Calvert had long maintained an interest in the exploration and settlement of the New World, beginning with his investment of twenty-five pounds in the second
Virginia Company
in 1609, and a few months later a more substantial sum in the
East India Company
which he increased in 1614.
Avalon colony
Baltimore was by now more determined than ever to visit his colony in person. In May 1626, he wrote to Wentworth:
Aston's return to England in late 1626,
Baltimore in Avalon
In late September or October 1629, Baltimore arrived in
Jamestown
, where the Virginians, who suspected him of designs on some of their territory and vehemently opposed Catholicism, gave him a cool welcome and tendered him the oaths of supremacy and allegiance, which he refused to take—upon which they ordered him to leave.
Attempt to found a mid-Atlantic colony
In his will, written the day before he died, Baltimore beseeched his friends Wentworth and Cottington to act as guardians and supervisors to his son Cæcilius, who inherited the title of Lord Baltimore and the imminent grant of Maryland.
See also